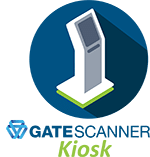 GateScanner Kiosk – USB scanning stations for secure file transfers
A GateScanner® Kiosk is a free-standing cyber-security station with portable media ports and a touch-screen, that provides secure and managed file import from any portable device to the enterprise network. Users can freely transfer files from their removable media to destinations on the network – or to other removable devices – without compromising security or NERC CIP/NIST compliance.
GateScanner Kiosk applies advanced Content Disarm and Reconstruction (CDR) technology to the incoming files, eliminating both known and unknown ('signature-less') malicious code that may potentially be embedded in them.
The GateScanner cyber security kiosk can be deployed as a stand-alone unit or in a networked configuration.

These cybersecurity kiosks also provide IT teams with managed file-export control, providing policy-based file redaction for prevention of data-loss/data exfiltration, or for data-protection and GDPR compliance.
GateScanner Kiosk Order Form
Description
Price in USD

All prices are before shipping

Micro PC

Pre-installed hardened/secure GateScanner® Kiosk appliance with 5AV's, multiple True-Type Engines, full CDR and DLP.
Installed on a Dell Optiplex 3080 Micro with Core i5 (Quad Core), 8GB RAM, 256GB SSD [or equivalent brand and configuration].

Includes: Keyboard, USB Mouse, CD/DVD-RW [Monitor not included].

$8,500/annual subscription

$8,500/annual subscription

Laptop

Pre-installed hardened/secure GateScanner® Kiosk appliance based on a Dell Latitude 14" 7410 with Core i5 (Quad Core), 8GB RAM, 256GB SSD, non-touch screen [or equivalent brand and configuration].

Lead times may vary

$8,500/annual subscription

+
$2,000 one-time fee

$8,500/annual subscription

+
$2,000 one-time fee

All-in-one PC

A pre-installed hardened/secure GateScanner® Kiosk appliance based on a Dell Latitude 22" all-in-one (e.g. 3280) with Core i5 (Quad Core), 8GB RAM, 256GB SSD, touch screen [or equivalent brand and configuration].

Includes: Keyboard, USB Mouse, memory card reader, internal CD/DVD.

Lead times may vary

$8,500/annual subscription
+
$2,000 one-time fee

$8,500/annual subscription
+
$2,000 one-time fee

Wall mounted enclosure

A pre-installed hardened/secure GateScanner® Kiosk appliance based on Dell Optiplex 3080 Micro with Core i5 (Quad Core), 8GB RAM, 256GB SSD [or equivalent brand and configuration].

Includes: Wall-mounted enclosure, 19"/21" touch screen, CD/DVD-RW.
Optional: keyboard, trackball and memory card reader.

Lead times may vary

$8,500/annual subscription
+
$2,500 one-time fee

$8,500/annual subscription
+
$2,500 one-time fee

Freestanding enclosure

Pre-installed hardened/secure GateScanner® Kiosk appliance based on Dell Optiplex 3080 Micro with Core i5 (Quad Core), 8GB RAM, 256GB SSD [or equivalent brand and configuration].

Includes: Freestanding enclosure, 22" touch screen, CD/DVD-RW, OPTIONAL keyboard, trackball, memory card reader.
Enclosure format may vary regionally.

Lead times may vary

$8,500/annual subscription
+
$3,500 one-time fee

$8,500/annual subscription
+
$3,500 one-time fee
Order Summary:
Item
Qty
Cost
Delete

Total initial cost

(excluding shipping)

$0
Our representative will contact you within 2 business days to finalize shipment and payment