GateScanner Cybersecurity Kiosk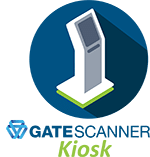 GateScanner Kiosk – USB scanning stations for secure file transfers
A GateScanner® Kiosk is a free-standing station with portable media ports and a touch-screen, providing managed, secure file import from portable devices into the enterprise network. Users can freely transfer files from their removable media to destinations on the network – or to other removable devices – without compromising network security or NERC CIP/ NIST compliance.
GateScanner Kiosk applies advanced Content Disarm and Reconstruction (CDR) technology to the incoming files, eliminating both known and unknown ('signature-less') malicious code that may potentially be embedded in them.
GateScanner Kiosk USB scanning stations can be deployed as stand-alone units or in networked configurations.

These cybersecurity kiosks also provide IT teams with managed file-export control, providing policy-based file redaction for prevention of data-loss/data exfiltration, or for data-protection and GDPR compliance.