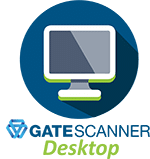 GateScanner Desktop – Securing USB ports on computers and laptops
With GateScanner® Desktop, endpoint users can freely import files from removable devices (USB) to their workstations, or other network destinations, without compromising network security. The client-server application is triggered by the insertion of a portable device and proceeds to guide users through a controlled import process that is in full compliance with NERC CIP managed access requirements.
During the import, USB de-contamination procedures first identify and block any potentially rogue devices and then the selected files are sent to GateScanner's multi-AV, Content Disarm and Reconstruction (CDR) engine/s for deep file sanitization. At the other end, new and completely safe copies of the originals are generated, to be delivered to pre-selected destinations – with minimal delay.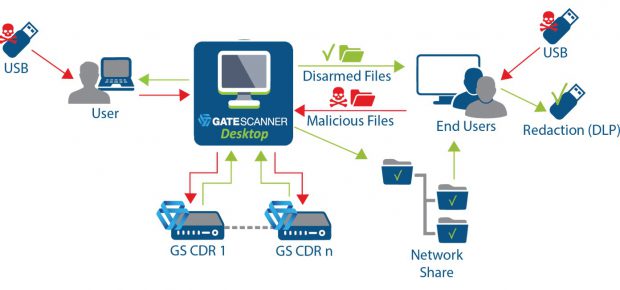 GateScanner® Desktop enables scanning and redaction (DLP) from the user's desktop.
Uses a 3rd-party device manager to activate the desktop agent.
Enables scanning in and out of LAN & integrates with AD.
Files are centrally scanned within the DMZ – using scalable grid of virtual GS Engines.