To purchase the full product, contact:
Sales@sasa-software.com
GateScanner Storebridge
Browse, transfer and sync between local and remote storages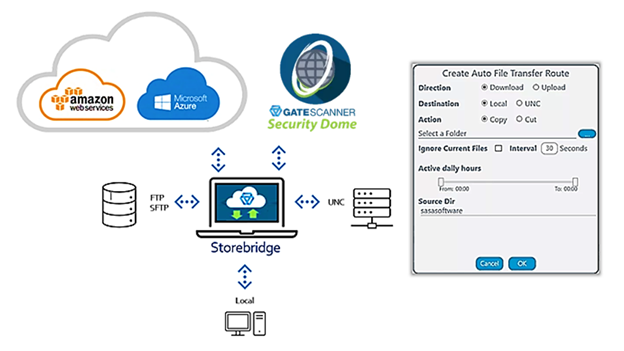 Connect, browse, create and delete folders in AWS, Azure, FTP/SFTP, Local and UNC
Transfer large files and folders, preserving folder structures
Options include – copy/cut, 'sync new files only', 'set sync frequency', 'set active hours'

Detailed reporting with extensive filtering – automated route status, transfer history, error logging and notifications (Syslog/SMTP)

Thread management for load-balancing
Option to use with proxy
For GateScanner Security Dome users: Direct link to GateScanner Security Dome CDR file sanitization and digital vaults W/remote scanning profile selection
Get your free Storebridge!
A download link will be sent to your email.
* 'Storebridge Essentials' free version supports one (1) automated 'Local to Cloud' connection and unlimited manual transfers.