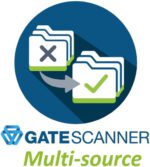 GateScanner

Multi-source – Securing Network Separation
GateScanner® Multi-source is a server-based application enabling secure file transfer between applications located on separate networks. A typical use case would be the passing of files between two networks with varying degrees of security such as Web/Internal.
GateScanner Multi-source – transparently inserted into the data flow – subjects each passing file to a rigorous sanitization protocol utilizing Content Disarm and Reconstruction (CDR) technology, and then delivers safe and harmless files to their destination.
GateScanner Multi-source can be coupled with our optical data diode, GateScanner® Injector, to achieve secure, air-gapped network segmentation/isolation, commonly implemented in critical infrastructure and industrial control system (ICS) network security schemes.