Securing The INBOUND CHANNELS

Email is a critical communication channel and primary attack vector.
Cyber-criminals exploit the human factor with highly targeted, socially-engineered email attacks using increasingly sophisticated ploys. Weaponized emails containing unknown malicious code evade the standard detection-based tools of Secure Mail Gateways (SEG's) and data breach and ransomware incidents increase at an alarming rate. Advanced threats require advanced solutions.
GateScanner® Mail intercepts every incoming email and attachment at the gateway and transforms them into new, safe and fully functional replicas, regardless if malicious code was detected or not.
Implementing highly configurable Content Disarm and Reconstruction (CDR) technology, GateScanner Mail breaks-down all incoming emails and attachments to their most basic components – separating content from format and deep-scanning both with multiple AV's and TrueType engines .
It then proceeds to neutralize any remaining potentially harmful active code while restructuring the file according to its native format definitions, breaking up any remaining embedded malicious code in the process.
With this preventive approach it is no longer possible to hide malicious code within incoming files, ensuring that only clean and safe files pass through into the network. 

COMING SOON in Q4 '20: Anti-phishing, URL reputation and Anti-Spam ​

Portable (USB) Media Security
The use of portable media, such as USB drives, poses a critical security risk for organizations.
Their use bypasses all security layers and exposes the organizational network to direct injection of malicious code hidden in the incoming files, in the device's formatting and even in the hardware itself.
This severe risk has prompted the banning of portable media in many organizations and led to the development of heightened security regulations such as the Energy Sector NERC CIP 003-7 portable media compliance, and NIST 800-53 (PR.PT-2) media protection requirements for Critical Infrastructures.
Now there is a secure and compliant way to use portable media in the organization –GateScanner® Kiosk & GateScanner® Desktop.
Secure portable media 'safe ports' are made available to staff through free-standing GateScanner kiosks positioned in central locations or through GateScaner Desktop client applications that take control of computer USB ports and submit all uploads to the GateScanner engine for processing.
GateScanner's CDR technology transforms all incoming files into harmless, safe & neutralized copies.
GS Kiosk installations can be deployed as stand-alone units or in networked configurations, and can optionally coupled with our propriety unidirectional data diode, GateScanner® Injector, for isolated network scenarios.

File transfer between applications positioned on different networks poses a formidable threat to network security.
Typically considered trusted channels, these coded or API-based file transfers are often set up to bypass IT security layers and therefore consititute an attractive attack vector for malicious actors. Supply chain attacks are prime examples of this type of vulnerability.
The transfer of files can occur between applications inside and outside the organization, or they can occur between networks of variable security levels within the organization in configurations known as a cross-domain solutions (CDS) – either way, they need to be tightly secured. 
Our solutions – GateScanner® API & GateScanner® Application Server – two dedicated CDR technology modules designed to protect networks from file-based attacks on incoming inter-application channels.
GateScanner Application Server acts as an active, file-cleansing bridge, inserted into API-less, back-to-back connections.
GateScanner API enables ISVs, IT security service providers, developers and IT administrators to seamlessly integrate GateScanner technology with their existing applications and cloud services. The API is available with multiple interfaces (REST, WCF, cmd-line) to connect a wide variety of applications.
Both modules offer built-in 3rd-party integration capability to blend seamlessly with exiting network security tools, and both are easily scalable on-the-fly, allowing delivery of state-of-the-art CDR protection to a virtually unlimited number of incoming channels. The GateScanner scanning engines can be located on premises, within a virtual environment, and within a private or public cloud.

With the proliferation of cloud-based applications and services, securing the end-user's web-browser from malicious links and files has become a top priority.
Secure web-browsing solutions typically offer some form of browser isolation, separating the browsing activity from endpoint devices thus significantly minimizing the attack surface. This approach works well up to the point that a file needs to be downloaded to the internal network, such as from a cloud-based CMS system. The point of transfer between the isolated browsing environment and the host system is a significant vulnerability that needs to be addressed.
GateScanner® provides software connectors to leading secure browsing solutions, effectively inserting CDR file-cleansing technology into the download process. Downloads are saved to an isolated environment, cleansed with GateScanner CDR technology and released from the isolation solution using a GateScanner® API connection. 
Additionally, GateScanner API enables developers to build their own connectors and insert GateScanner's CDR file-cleansing capability anywhere into the data chain, connecting any number of applications to GateScanner processing engines via API.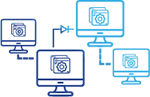 Secure Network Separation
High-security environments such as in the defense and CIS sectors, often implement network segmentation schemes where two or more networks of different security levels, such as IT and OT networks, are set up to create an additional layer of defense for highly-sensitive assets in configurations known as a cross-domain solutions (CDS). Securing the point of transfer between the public and classified network is achieved by applying advanced policy-based data-security tools, such as GateScanner® Kiosk and GateScanner® Application Server optionally coupled with unidirectional gateways, such as GateScanner® Injector to achieve maximum control over data flowing in and out of the isolated network.
Fully integrated with other GateScanner CDR technology modules, GS Injector enables safe delivery of files into high-security networks as well as policy-based control of data exported from the secured zone for the prevention of data-loss and data protection compliance.
GateScanner Injector includes easy setup hardware and software components supporting automated file transfers in a wide variety of indoor and outdoor installation environments.

Operational computing appliances are more exposed to cyber attacks due to limitations in deploying traditional security technologies on appliance-based platforms such as SCADA/ICS, aviation computers, medical-imaging equipment, and point of sale (POS) devices.
While solutions exist to monitor traffic in operational (OT) networks and to detect and prevent file-based attacks prior to saving files on
appliances, it is challenging to verify that the appliance itself hasn't been compromised. 
GateScanner® Appliance Security performs entire hard disk drive (HDD) scanning with multiple AV's on MS-Windows based appliances and computing assets.
Loaded into the appliance's memory during pre-execution boot, GS Appliance Security gains access to all HDD areas including protected sectors.
As no software is installed and no configuration changes are made, appliance integrity is strictly maintained.
Try our award-winning solution today