GateScanner DICOM Protector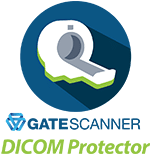 GateScanner

DICOM Protector – Securing the PACS 
DICOM (Digital Imaging and Communications in Medicine) is the international standard for communication of medical imaging information. DICOM files are used daily by health organizations around the world, and it is exactly this prevalence that makes them especially attractive as vehicles for the transmission of embedded malware into healthcare organizations.
In times of pandemic, but not only then, an increased need for remote communication of radiological data – either directly from patients or from off-line clinics – is being felt. This file transfer, frequently from portable media such as CD, DVD and USB sticks uploaded directly into the institutional PACS, adds a considerable attack surface to the healthcare organization's network, and is growing concern for healthcare IT security teams.
GateScanner® DICOM Protector offers safe uploading of imaging files – X-ray, ultrasound, MRI and CT scans – to the PACS and RIS, from any type of portable media via dedicated uploading stations. These hardened, pre-configured end-points, positioned at strategic locations throughout the organization, offer 'safe ports' by which patients and staff can securely upload imaging data without exposing the healthcare network to risk. GateScanner performs proprietary, multi-AV, deep-threat scans on all incoming DICOM files, including included viewer software. Safe files, devoid of any malware, are produced, and the full functionality and clinical data integrity of the uploaded files in the PACS is preserved.