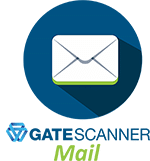 GateScanner Mail – the ultimate email security for servers
Featuring 'better than detection' email security for your email server, Content Disarm and Reconstruction (CDR) technology overcomes both known and unknown ('signature-less') malware entering the email channel.
Each and every incoming message/attachment are deconstructed to their basic components, deep-scanned with multi-AV engines and purged of malicious and active content. File-spoofing attempts are identified and blocked; password-protected attachments are unpacked and scanned via user prompts.
Completely safe, new email messages that are identical in content and function to the originals, are generated and delivered to their destination, with minimal delay.