GateScanner DICOM Protector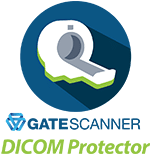 GateScanner

 DICOM Protector – Sharing medical imaging data securely 
GateScanner® DICOM Protector gives healthcare IT teams the ability to offer direct uploading of imaging files from portable media by staff and the public, without risking the healthcare-system's network security.
Medical imaging files – X-ray, ultrasound, MRI and CT scans – can now be uploaded from any portable device including USB drives, CD's and DVD's, via free-standing kiosk/stations installed at strategic locations on the site, providing 'safe ports' for secure uploading of DICOM data.
GateScanner performs proprietary, deep-threat scans on all incoming DICOM files applying Content Disarm and Reconstruction (CDR) technology to effectively transform them into new and safe copies of the original files. This is achieved without effecting the functionality of the files or compromising the integrity of the clinical data in them.
GateScanner's CDR technology is capable of disabling both detectable and un-detectable ('signature-less') malware that may be embedded in the imaging files, thus preventing potential file-based attacks, such as APT's, zero-day's, trojan's and ransomware.