GateScanner Cybersecurity Kiosk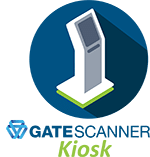 GateScanner Kiosk – USB scanning stations for secure file transfers
A GateScanner® Kiosk is a freestanding physical appliance featuring portable media ports and a touch-screen, that provides managed and secure file import from portable devices to the network environment, via 'safe ports'.  Users can freely transfer files from any removable media device to internal network destinations (or to other devices), without jeopardizing network security or NERC CIP/ NIST compliance.

GateScanner Kiosk applies advanced Content Disarm and Reconstruction (CDR) technology to decontaminate the USB device, eliminating both known or unknown ('signature-less') malicious code that potentially may be embedded in the device's firmware or in the shared files. 

GateScanner USB scanning stations can be deployed as stand-alone units or in networked configurations. Optionally, the stations can be coupled with data diodes, such as GateScanner® Injector, to support network isolation/segmentation or cross domain solutions (CDS). These cybersecurity kiosks also provide IT teams with managed file-export control, providing policy-based file redaction for prevention of data-loss/data exfiltration, or for data-protection and GDPR applications.