GateScanner Application Server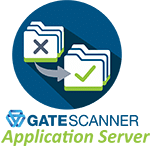 GateScanner

Application Server – Securing file transfers
GateScanner® Application Server is a server-based application that provides secure file transfer between applications.
A typical implementation involves securing the transfer of files between two networks (such as internal/Web) or between two network zones with varying degrees of security.
GateScanner Application Server, transparently inserted into the data flow, submits each passing file to rigorous sanitization using Content Disarm and Reconstruction (CDR) technology, delivering a completely safe and harmless file to the destination.
GateScanner Application Server can be coupled with our data diode, GateScanner® Injector, to deliver secure, air-gapped network segmentation/isolation, commonly used in critical infrastructure and ICS network security.