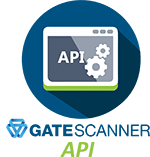 GateScanner API – The power of CDR file sanitization at your fingertips
GateScanner® API provides developers with tools to seamlessly insert GateScanner's powerful file-cleansing technology into any data process. Files are directed to a scalable grid of GateScanner AV engines for fast, in-depth scanning with Content Disarm and Reconstruction (CDR) technology applied, returning new and completely safe copies back to the source.
GateScanner scanning engines can be located on premises or implemented within virtual environments, on private or public clouds.