how a hospital maintained remote customer relations at times of covid-19 lock-down
Delliotte Digital in collaboration with Sasa Software and Assuta Medical Centers developed a GateScanner to Salesforce connector enabling transparent file security for the medical organization's CRM.
The Challenge
Receiving documents from customers is critical for every organization, and more so at times of pandemic and lock-downs. However, it is also a source of concern, since file-based attacks including ransomware, zero Days, exploits, and other threats, evade existing detection-based technologies. Assuta Medical Centers, the largest privately-owned healthcare system in Israel, uses Salesforce.com to manage its customer relations. In the time of COVID-19 more and more services rely on remote communication with data sharing. Assuta hospital sought a way to apply their GateScanner security tools to their cloud-based CRM. The problem was that Salesforce currently does not provide a built-in capability to ensure the safety of documents uploaded into the CRM.  This is a significant security risk to Salesforce users since malicious content can be delivered through multiple routes, exposing the entire organization to vulnerabilities. 
The Solution  
GateScanner® Content Disarm and Reconstruction (CDR) connector to Salesforceensures every file delivered to the cloud-based CRM is safe.  GateScanner combines highly optimized Multi-AV and NextGen Detection technologies to pre-filter known threats and prevents undetectable attacks using proprietary file disarm, transforming every file into a neutralized (harmless) copy, protecting against weaponized content that has never been seen before.
Customer-centric security developed in collaboration with Deloitte
Developed in collaboration with with Assuta Medical Centers and Deloitte Digital, the world's leading professional services firm, GateScanner SFDC connector and API now deliver a seamless SaaS-based integration between Salesforce and GateScanner for seamless processing and a transparent user experience.  
Connector workflow
Salesforce is connected to GateScanner CDR using a content trigger
Every document uploaded from external sources transparently invokes GateScanner REST API
GateScanner CDR applies deep threat detection and proprietary file disarm to ensure security
The threat-free documents are saved into Salesforce's file repository
GateScanner CDR Salesforce connector features
Seamless and transparent user experience
Robust dashboard for organizational visibility and compliance
Customized policies according to file-types and content routes
Supports hundreds of file type combinations, including MS Office, PDF, media files (images, audio, video), Archives, Email, executables, text files, medical imagine files (DICOM) and more.
Fully supports Salesforce BASE-64 file streaming.
Deployed as a Service, Private Cloud, On-premesis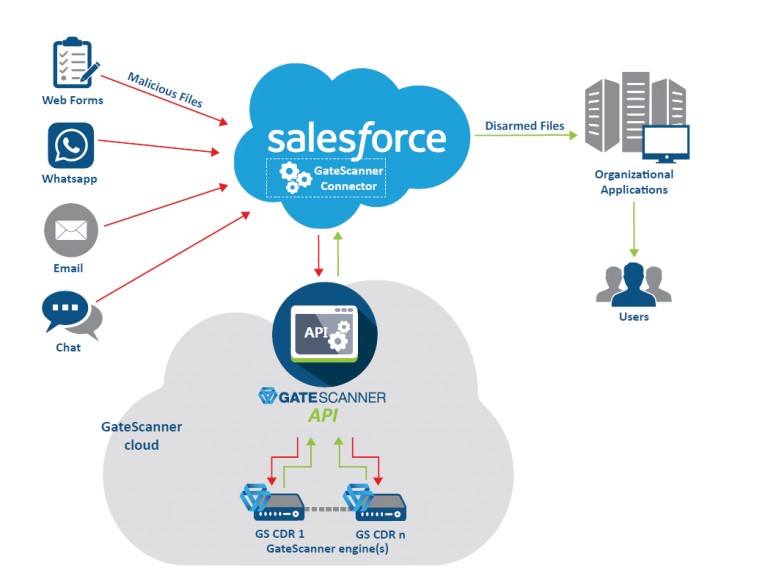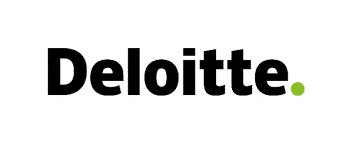 Testimonials
Tamir Ronen, CISO of Assuta Medical Centers, "We immediately realized the security benefits of the connectivity between GateScanner CDR and Salesforce. Multiple content routes were secured, including Mail, Web Forms, Social Media, Customer Service chats apps, including via mobile phones. GateScanner CDR has successfully blocked numerous suspicious and malicious files, including unrecognized file formats and advanced threats".
Amir Eliasy, Partner at Deloitte Digital, "The connector developed together with Assuta Medical Centers and Sasa Software enables organizations to conveniently communicate with customers in today's hyper connected world, while ensuring users are not exposed to file-based risks. This is a critical capability especially with the remote work realities of COVID-19."
how an insurance company enabled secure file sharing through their online service portal
A leading Israeli financial services company with over 4,000 employees & traded on TASE, required a secure method to enable customers, investors, insurance agents and other stake-holders to upload and retrieve files from their web-based service portal without compromising network security and with minimal impact on day-to-day business operations.
The Solution
Files are securely uploaded via a web portal into a file vault.  Files are automatically scanned by GateScanner® Application Server.  Selected files are sent to sandbox inspection via GateScanner External Tools Integration.  The secure files are saved in the corporate data center, and available for retrieval. 
Results
Communications with external parties is an essential part of the customer's business flow. GateScanner achieved the customer's a non-compromising requirement for uninterrupted productivity, volume of files received, and demand for minimal latency.
GateScanner provides enhanced protection against known threats, and dramatically reduces exposure to sophisticated and targeted cyber-attacks by disarming files.
Solution is easily managed, receiving centralized daily updates, with centralized auditing of activities.
Workflow
Users upload files to a web based portal, transferring files to a secure vault (CyberArk).
Files undergo deep scanning for known threats with multiple True Type Engines and Multiple AV engines. Select files undergo Sandbox (Fortinet) inspection via external tools connector. Infected and suspicious files are blocked.
Files undergo additional disarming according to a designated profile.
The neutralized files are safely introduced into the customer's data center.
The secure files are now available for retrieval from the customer's web portal.
how a major healthcare provider averted a ransomware attack
Assuta Medical Centers is Israel's largest private healthcare provider, with 4 hospitals, ambulatory centers, servicing over 1 million patients annually, performing over 92,000 surgeries and 6,000 IVF treatments per year. The client was aware of increasing rates of attempted cyber-attacks, and wanted to dramatically improve email security, as well as prevent malicious attacks via browsing.
The Solution
Assuta deployed multiple GateScanner® solutions (Mail, Secure Browsing).  With email and browsing accounting for over 90% of malicious attacks, the solution dramatically reduced Assuta's exposure to potential cyber-attacks.  Since all emails and files are disarmed, the solution reduces exposure to potential employee negligence, greatly leveraging their extensive employee security awareness training. 
Results
Tamir Ronen, CISO of Assuta Medical Centers testified, "In recent months, we have been the target of several ransomware attacks, including the notorious 'Petya' strain.  Fortunately, GateScanner prevented these kind of attacks, protecting us from being exposed to system downtime and data breaches. With Sasa Software's solutions we feel much more secured even from unknown and undetectable malicious attacks."
how a multinational chemical producer protected its global manufacturing network
A NYSE listed, multinational manufacturer of fertilizers, metals and special usage chemicals with over $5b in annual revenues and 10,000 employees operates globally through more than 190 offices and manufacturing sites across four continents. The company's operational manufacturing networks must be protected from advanced file-based cyber threats. The company required a highly secure, reliable and efficient method to introduce files into their air-gapped networks.
The Solution
Geographically distributed, centrally managed GateScanner® kiosks, together with GateScanner® Injectors for unidirectional file transfers into the air-gapped networks.  Kiosks are deployed at the company's international manufacturing sites, and managed at the US HQ.
Workflow
Users select files from detachable media at a GateScanner® Kiosk.
Files are copied into the kiosk and undergo deep scans for known threats with multiple True Type Engines and Multiple AV engines. Malicious and suspicious files are blocked. 
Files undergo additional disarming according to a designated policy.
The disarmed files are transferred uni-directionally into the operational network via GateScanner Injector.
Files are saved to a network share, or to the user's home drive.
The user received a notification once the scan has completed.
Kiosks are centrally managed at the company's HQ with logs sent to their SIEM.
Results
GateScanner provides enhanced protection against known threats, and dramatically reduces exposure to sophisticated and targeted cyber-attacks by disarming files.
The customer can now securely and safely introduce external files into their operational networks.
Solution is easily managed, receiving centralized daily updates, with centralized auditing of activities.
Try our award-winning solution today